What is a great brand?
Having a great brand is so much more than a logo, that's just the start. Your brand is all encompassing, involves every aspect of your business and needs to be agile enough to deal with the ever changing demands of the market. It is vital that you continue to build and take special care of it because what you do affects your brand's equity in a positive or negative way.
Every touch point of your business that directly interacts with people needs to look great and function professionally at every level so that your customers have a consistently excellent user experience. When all brand elements are being executed well it continually builds your brand recognition and reputation in the market place. This will ensure that when clients or customers need what you provide they will be calling you and not your competitors.
If you want a brand you can be proud of talk to Gareth on: +64 (0)21 2026 062


Confast Ultradrive Sub-Brand
This sub-brand was created to launch a new multi-purpose screw for the construction market. It has a range of features that make it a high quality product including a "Type 17" point that enables a fast grab and sharp serrated edges on the thread that reduce friction for an efficient insertion. It was these features that inspired the sharp angular graphic of the logo which along with the name "Ultradrive" enforces the idea of "drive" way beyond any standard screw.
The packaging, marketing material and web teaser were designed to be dramatic with a bold colour scheme and the continued angular them of the logo.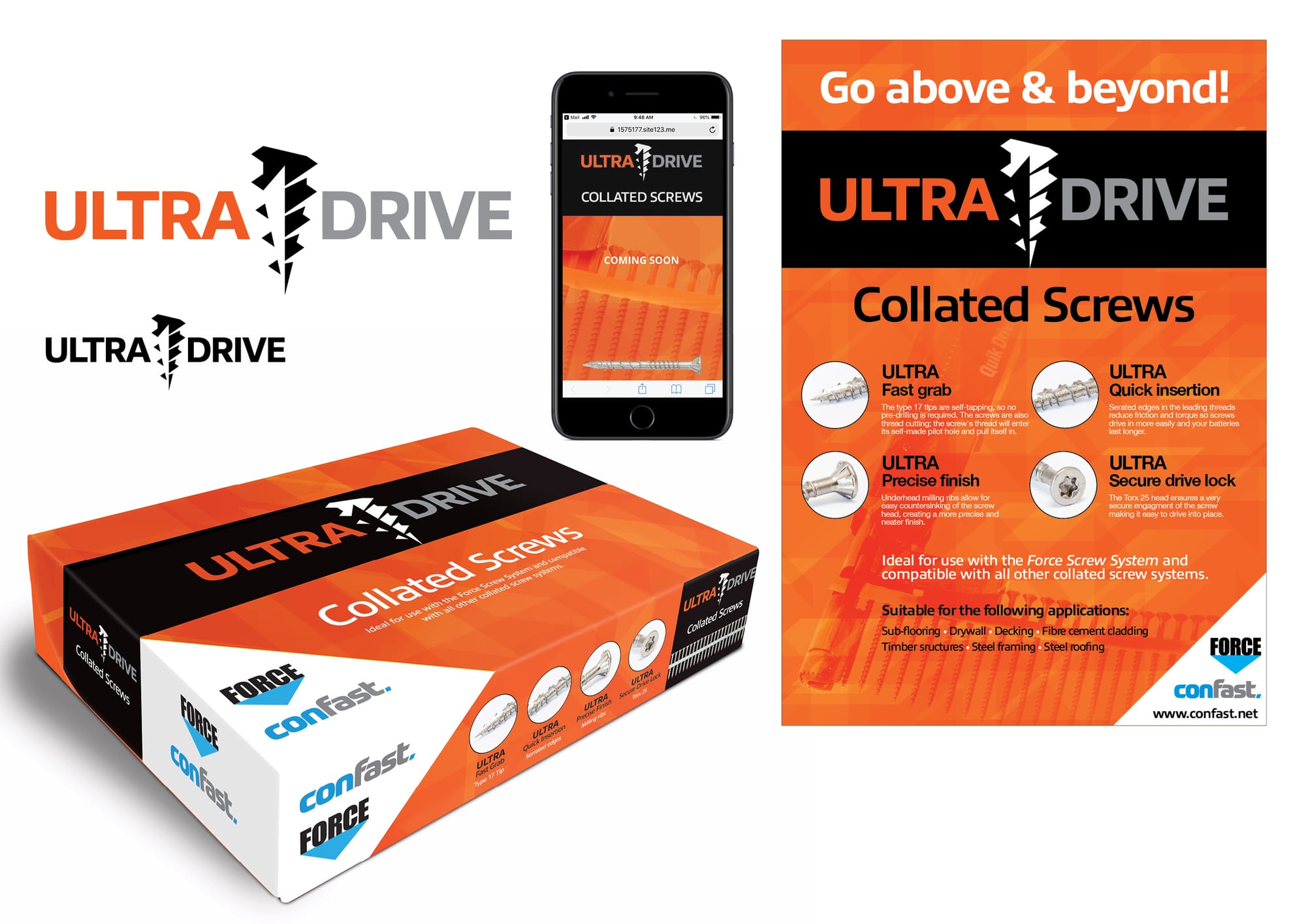 MCC Clean Brand
MCC Clean are a startup company that uses a new and highly effective pure water system for cleaning windows and commercial structures. The pure water that the system creates attracts dirt molecules from the surface being cleaned leaving them sparkling. It is an environmentally friendly process that gives you the cleanest windows possible without using any harmful chemicals.
All these factors were duly considered and led to an eye catching brand that demonstrates elements of the cleaning process and its green credentials.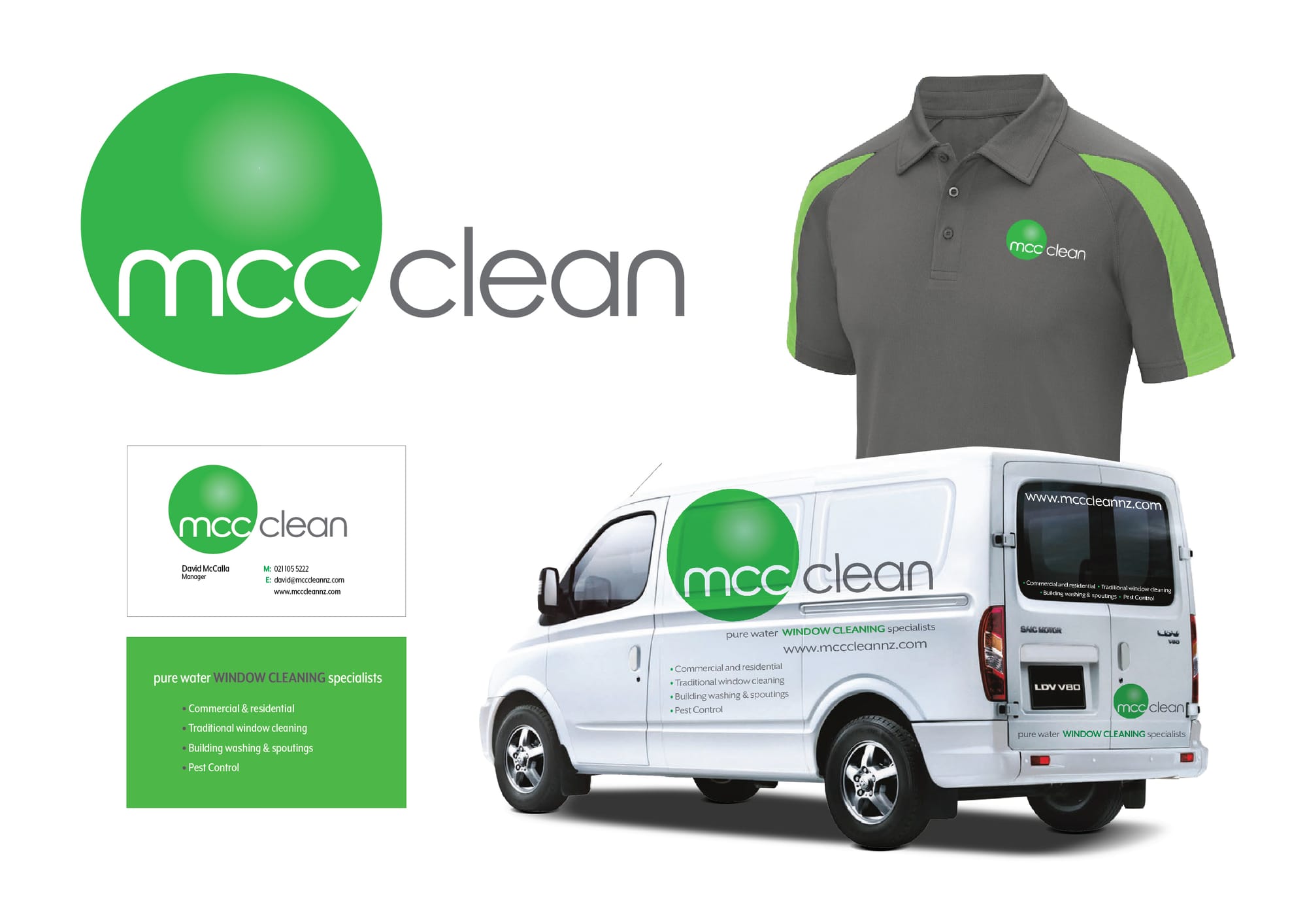 Treetopping.co.nz is a Canterbury owned business that specialises in a "complete controlled process". While the tree is being "topped" a clamp attaches to the trunk and then when cut, lowers the removed section under complete control to the ground. This prevents falling debris and removes any danger as well as preventing damage to the machine, lawns and any nearby structures before it is taken away.
The logo enforces the idea of nature being controlled with the tree icon and the negative space adds drama to the design. The tag line advertises the advantages of the specialist machinery and the full service on offer.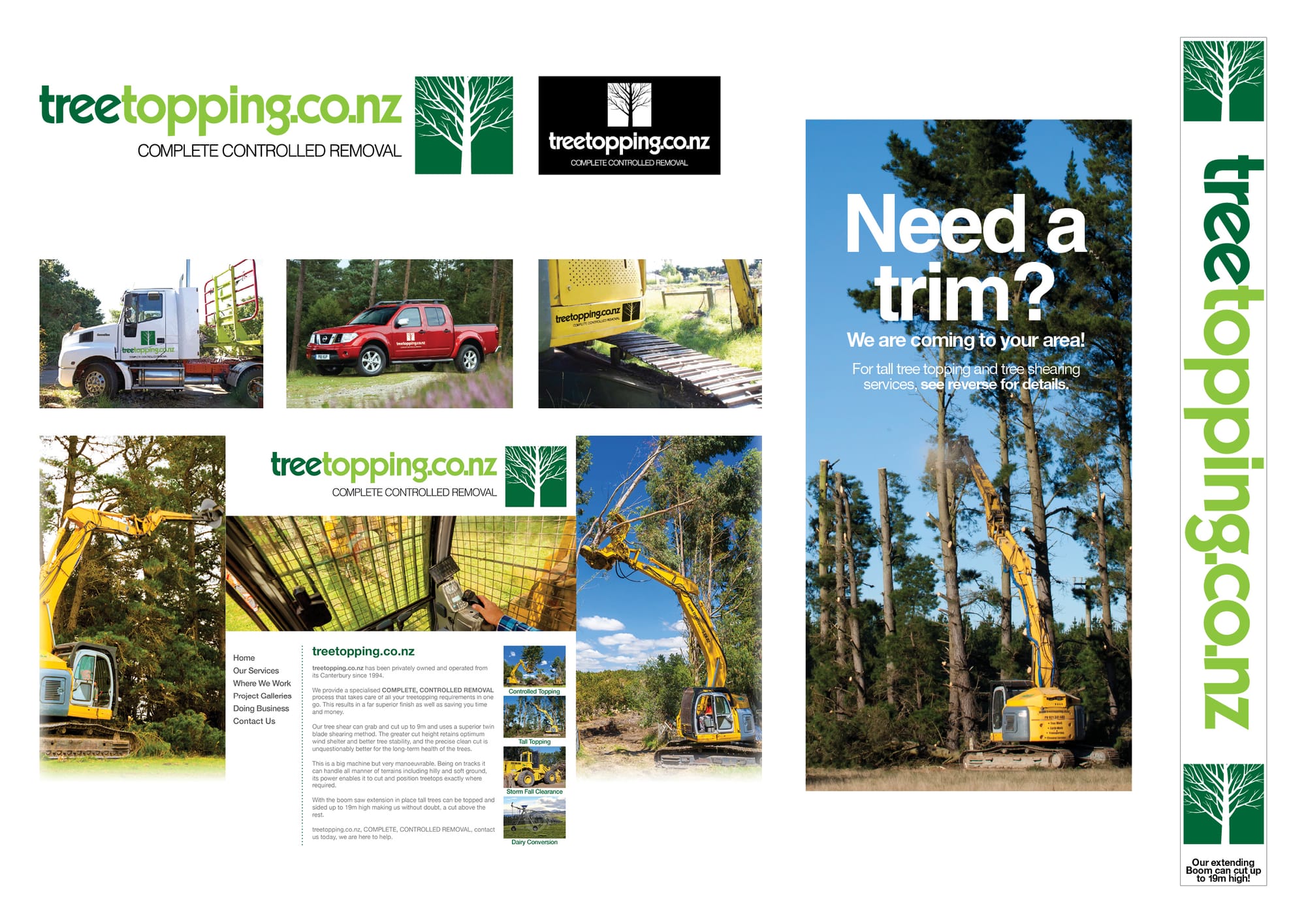 Hug Brand Concept
A local furniture importer wanted a brand for a new range of high quality and extremely comfortable leather reclining and lifting chairs. The pitch for the brand asked "How does your chair greet you when you get home?" Does it nod and say what's up? Does it smile and shake you warmly by the hand? Or does it wrap its arms around you and give you a great big HUG!
The warm colours, soft rounded fonts, wrapped smiling arms and mittened style hands immediately give you a feeling of security and wellbeing. After all everybody needs a hug.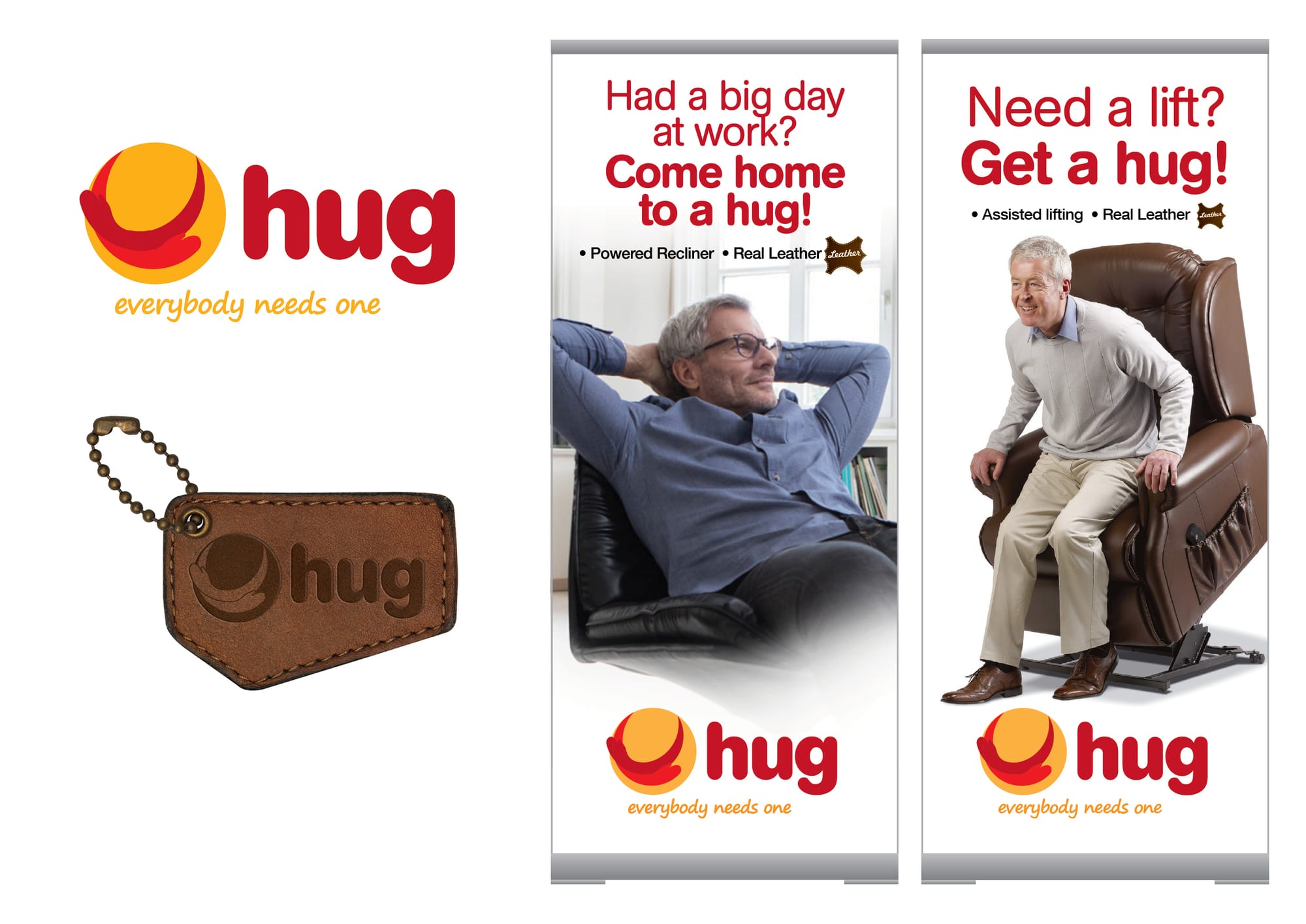 Blacks Fasteners Safety Gear Sub-Brand
A new safety product range needed its own distinct identity amongst the Blacks family of products. The safety gear logo needed a heavy construction/engineering feel to fit in with its core markets. The use of the black and yellow chevrons captures attention due to its resemblance to safety barrier tape and the tag "Be smart, be safe" talks directly to the tradies who need to use these products.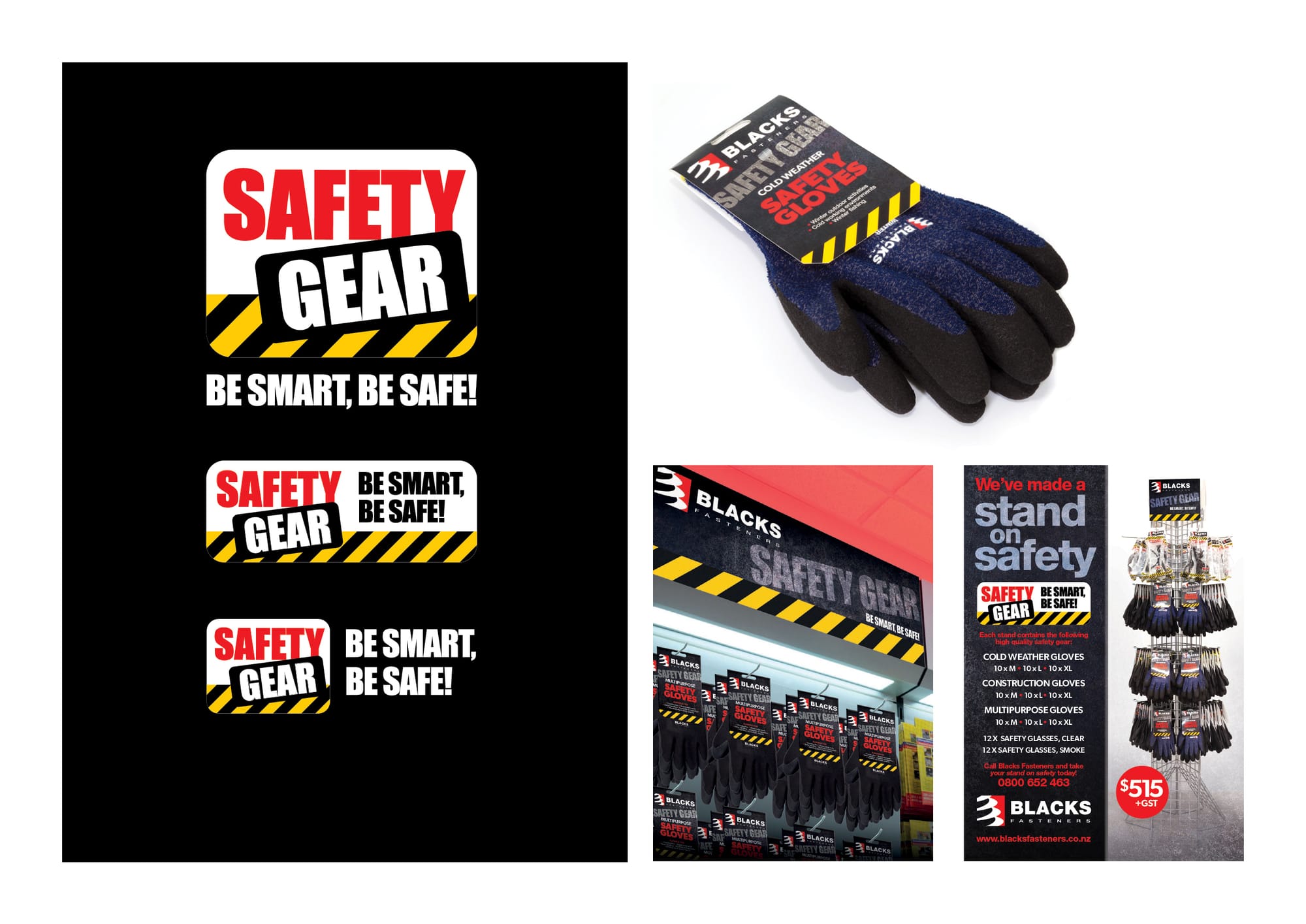 GCH Aviation UAV Sub-Brand
When GCH Aviation bought a UAV business it needed to have an identity that enabled it to sit nicely amongst the other companies in the group. The GCH arc and fonts were used as a basis for the design then an abstract UAV symbol was created and incorporated into the logo. The result was a distinctive, unique brand that complements all the others in the GCH group.