Print Production
In a vast digital world there is something very special about a beautifully printed piece of marketing material. In a throw away society it tells people you care enough about your message that you want to put it down on paper and that means something.
A carefully chosen image with a few eloquent words can deliver a message that is irresistible when placed in the correct publication. Print media is not gone and most certainly not forgotten.
If you need to print production artwork call Gareth on: +64 (0)21 2026 062


Laservision Bridal Ad
"The most important day of your life. Don't miss a thing". This insightful statement to all brides To Be emphasised the huge benefits of not having to wear glasses or contacts on their big day. That clear message along with a meticulously chosen image of a beautiful bride, with the most stunning eyes resonated with every woman's desire to be at their very best for the love of their lives.



GCH Aviation Scenic Flights Brochure
Garden City Helicopters needed a brochure to showcase the stunning locations in and around Christchurch that take on another level when viewed from the air. The material emphasised that combining the stunning landscapes with the thrill of flying in a helicopter made for an incredible experience that was "Not to be missed". It also stressed the vast experience and incredible diamond safety record of the flight company taking care of them on their adventure.



Blacks Fasteners EG Ads
A series of full page ads for EG Quarterly were created to promote key products for the engineering and architectural sectors. Straight talking headlines with bold imagery combine to grab the attention of an audience that wants to deal with certainties, not empty statements.

Blacks Fasteners Construction Product Guide
A catalogue was needed to put in the hands of tradies to promote the vast range of high quality products available at Blacks that they use on a daily basis. In a digital world there is still a place for printed material that is well produced and logically laid out, that makes it easy to reference and order products in the middle of a building site!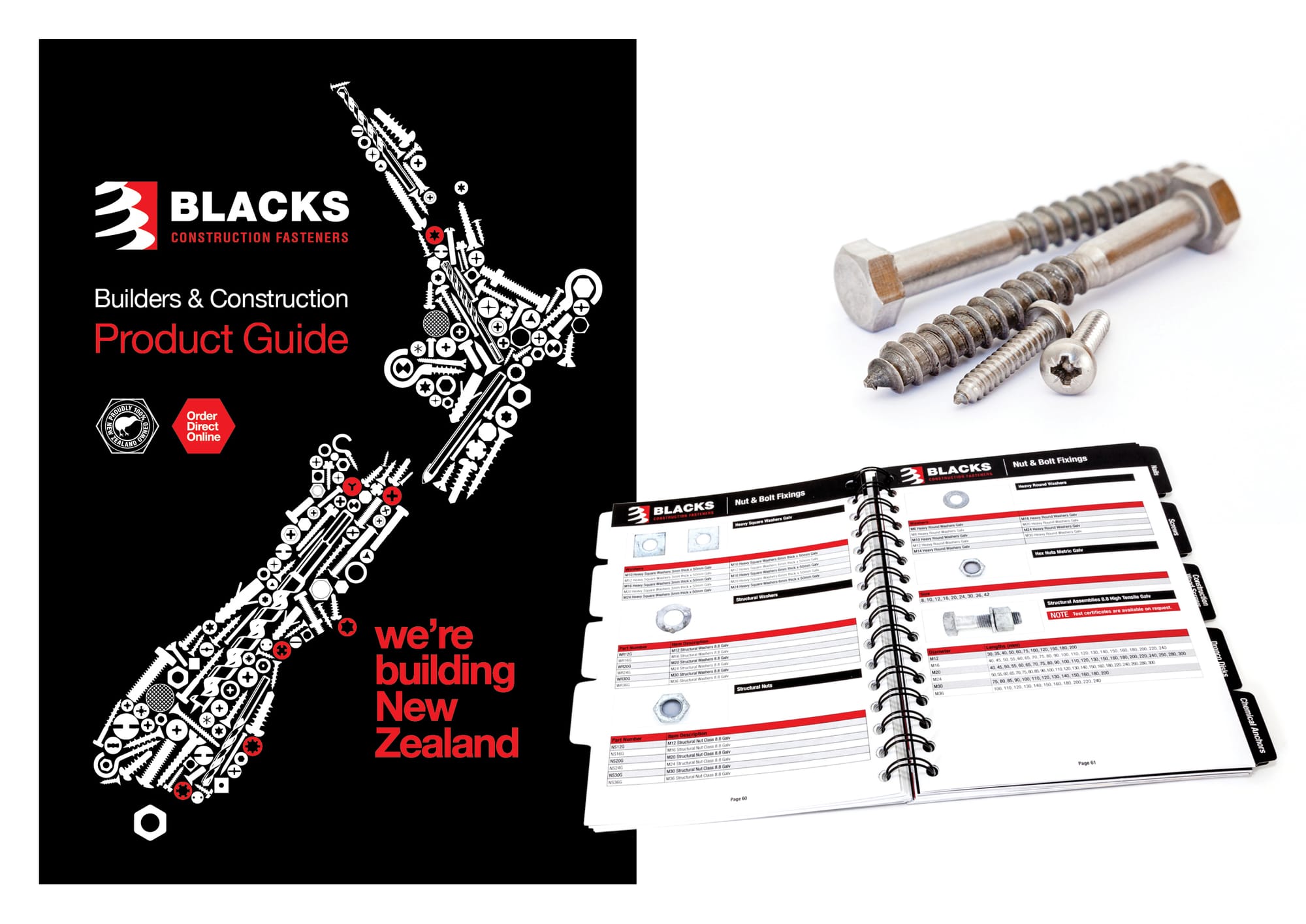 GCH Jet Centre Exhibition Stand & Marketing Material
This stand was devised for the TRENZ conference to promote the new Christchurch based Jet Centre facility along with luxury travel destinations and scenic flights. Stunning photography does all the talking and gives the customer a very clear idea of what they can expect from this exceptional service.